ATTENTION !
EN RAISON DES CIRCONSTANCES ACTUELLES, L'ASSEMBLÉE GÉNÉRALE DU CGS PRÉVUE LE SAMEDI 21 MARS 2020 À ANNECY-LE-VIEUX, EST REPORTÉE A UNE DATE ULTÉRIEURE.
Et si vous offriez un beau livre en cadeau d'anniversaire à vos proches ?
D'autant plus que c'est une affaire à 16 € plus port (prix coûtant) !

Ou ces deux autres publications également à prix coûtant…
Histoire Généalogique
de la maison de Challant,
par Pascal Durandard

Se souvenir d'eux…
par Michèle Métral dit Bardollet
Pour consulter les études de familles réalisées par nos adhérents cliquer ICI.
Pour consulter les sommaires des précédents numéros des Rameaux, cliquer ICI.
Février 2020 – Publication of Rameaux #88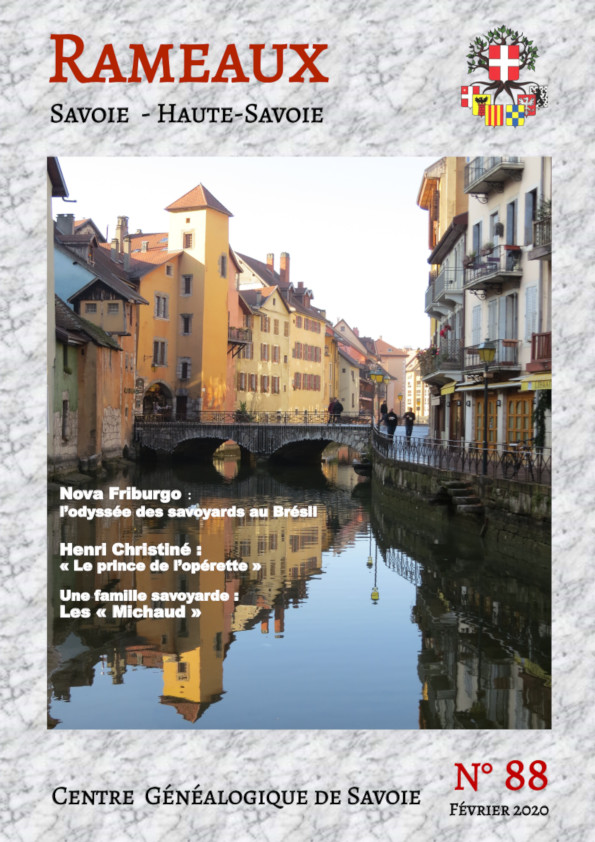 The CENTRE GÉNÉALOGIQUE DE SAVOIE is :
— A dynamic community of volontary genealogists, rich of its 550 members passionate about their quest of savoy ascendants and always ready to advise and help,
— A unique online database of more than 2 000 000 systematic statement of savoy acts (parish registers, civil status, deeds…),
— Genealogy courses for newbies, paleography courses and initiation to latin, to be able to read old statements,
— An education to computers: discovery of genealogy software, internet…
— An important historical documentary fund, publications and its journal "Les Rameaux",
— 5 offices covering all the territory of the two savoy departments.